2019-2020
Isolation, oil on canvas 16×20″.
Mary's kitchen crush, oil on canvas, 12×16″. from the TV series ary's kitchen crush.
The stream. Acrylics on canvas, 16″x20″.  Poems on the paper boats (right/left):
[...] Moon River wider than a mile
I'm crossing you in style someday
Old dream maker you heart breaker
wherever you're going I'm going your way
Two drifters off to see the world
There's such a lot of world to see
We're after the same rainbow's end [...]
Johnny Mercer (1909 – 1976)
[...] You become an image of what is remembered forever.
You and I have floated here on the stream that brings from the fount.
At the heart of time, love of one for another.
We have played alongside millions of lovers, shared in the same
Shy sweetness of meeting, the same distressful tears of farewell-[...]
Rabindranath Tagore (1861-1941)
Untitled, oil on canvas 16×20″.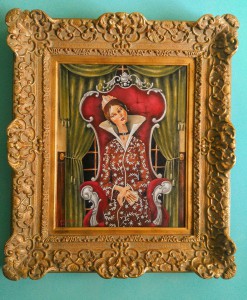 The innocence , oil on canvas 11×14″.
New mankind.  Oil and 24k gold on canvas.
Frame: "tympanum of dreams", edition of 10 designed for folk art:  up to 7 different layers of colour coating, gild, water based varnish on bottom and oil based varnish + wax on top coating. Signatures+ hidden and apparent initials are on the pediment as well as the bottom parts.  Besides the structural wood, all cuts, adjustments and final touches are made by hand with no machine. Except wood and screws, all pieces are made and purchased from Canada or United States.
Material: Plaster mixed with stone, gesso, nails, mixture of hard and soft  wood.  The two legs at the bottom are polymer cement armed with aluminum bar to prevent deep cracks by aging. Due to the weight of the ornamental pieces, latex glue (PH 10) is used instead of rabbit skin.  As addition to the glue, 5 inaccessible screws secure the pieces  on the structure.

2018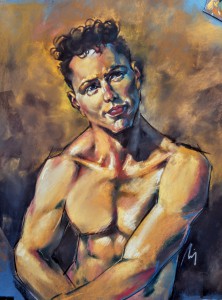 Pastel on sanded cardboard 19″x25″, Model: Hughes
2017
2016