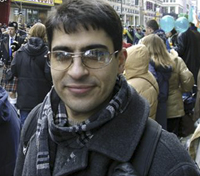 Amir is an Irano-Canadian IT specialist, Painter and Sculptor. He was born in April 1976 in Tehran and immigrated to Canada in June 2004. He obtained his Engineering diploma from University of Tehran in 2001 and obtained his parallel studied Masters in Engineering and Masters in Management from university of Montreal in 2006 and 2007.
Since his childhood, he was inspired from his parents who are architect. He started learning basic concept of art during his very young ages and continued self-studying and practicing in art all along his engineering studies and career.
Amir had dozens of illustrative and sale exhibitions and co-exhibitions in Canada since 2009. He constantly participates painting sessions, free style sculpting and life drawings and had some private lessons from known local and international Artist such as Aidin Aghdashloo(Painter), Parviz Izad-panah (Watercolor painter), and Gary Smith(Portrait painter). He already planned more than 3 co-exhibitions and 1 solo exhibition for 2014, and has been approved for a Group Exhibition in SNBA Paris, Louvre Gallery on October 2014.
He believes seeing at least one beauty per day is the right of every human being and visual arts are the easiest tool to achieve this objective. Spirit of life, Beauty of emotions, Body language and movement are his four substantial ingredients. He believes material and technique are just tools to state their existence. He believes 'creation' is the highest ability in universe and admires every creative approach that subjectively stripes moments of evolving, survival, emotions, or simply perspectives imagination.